Whether you're navigating a long road trip or cruising to your favorite playlists on your daily commute, having your phone accessible in a safe, hands-free way is essential. Not all car mounts are created equal, and there are plenty of disappointing phone cradles on the market.
Our list will help steer you right in choosing the best car phone holder to work for your car and phone to keep them working in perfect harmony, whether you prefer to mount your phone on the dashboard, in a vent, or elsewhere in your car.
Please note: Different U.S. states and countries have different rules pertaining to phone use while driving. While some options below will be perfectly suitable for some areas, other territories will require a screen-based navigational aid (e.g. Google Maps) to be placed on a windscreen rather than a vent or cup holder. Make sure you do your research before purchasing, and make sure you're fully aware of the laws within the area you live and anywhere you might travel.
Scosche MagicMount Pro Charge5
The best choice for charging MagSafe iPhones
Pros
Fast 15W MagSafe charging
Extra USB-C charging port for a second device
Includes magnetic plate for non-MagSafe iPhones
Cons
Non-MagSafe cases require use of magnetic plate
Different mounting options are sold individually
The Charge5 is Scosche's latest entry in its popular MagicMount Pro series. It's designed to not only hold an iPhone 12 or iPhone 13 securely with Apple's MagSafe technology but also keep you powered up on the road at the same time. A set of powerful Neodymium magnets align with the MagSafe ring in a compatible iPhone to securely hold your device in place while driving. The MagSafe attachment is strong enough to handle everything from the diminutive iPhone Mini to the full-sized iPhone Pro Max.
The Charge5 is also fully MagSafe-certified, meaning it will fast-charge a MagSafe-compatible iPhone at full 15W speeds. Plus, there's an extra 20W USB-C charging port on the included car connector, so you can power up a second device simultaneously.
You can also use the Charge5 even if you aren't toting an iPhone with a MagSafe attachment yet. Like Scosche's previous MagicMount Pro accessories, the included MagicPlate can be attached to any iPhone to securely anchor it to the mount. Non-MagSafe iPhones can also still charge wirelessly, although you'll be limited to standard 7.5W Qi charging rather than Apple's faster MagSafe speeds.
The MagicPlate also comes in handy if you prefer to use a non-MagSafe case with your iPhone 12 or iPhone 13, as the MagSafe attachment may not be strong enough to keep your iPhone secure when passing through a case.
Scosche MagicMount Pro Charge5
The best choice for charging MagSafe iPhones
Belkin Car Vent Mount PRO with MagSafe
The best MagSafe mount
Pros
Supports MagSafe
Lightweight
Stays in place
Cons
Won't work through non-MagSafe cases
Doesn't fit all vents
Belkin's Vent Mount Pro was one of the first MagSafe car accessories to arrive after Apple debuted the new technology with the iPhone 12 in 2020 — and it's the first MagSafe accessory we found recommendable.
The Vent Mount Pro won't charge your iPhone; instead, it uses the MagSafe connector solely to anchor your iPhone 12 or newer to your dashboard with a minimum of fuss. The iPhone snaps on magnetically and stays securely in place, so there are no brackets or arms to fuss with. It's an elegant solution that just works.
Just keep in mind that, like most MagSafe docks and mounts, you won't be able to use this with a non-MagSafe case — the magnetic attachment isn't strong enough to avoid the risk of your iPhone falling off while driving. However, it works great with an uncased iPhone or any Apple or third-party case that includes the MagSafe ring.
Belkin Car Vent Mount PRO with MagSafe
The best MagSafe mount
Kenu Airframe+ Vent Mount
The most portable mount
Pros
Lightweight and pocketable
Can be used as a kickstand
Expands to handle the largest iPhone models
Cons
Placement can be awkward on some vents
Not a fan of mounting sticky pads to your dashboard or suction cups to your windscreen? A vent mounting system could be what you're looking for then. Built to fit most vent slats, Kenu's Airframe+ slides into your chosen vent and expands to accommodate your iPhone.
It's large enough to accommodate even the most super-sized iPhones, including the iPhone 13 Pro Max, and the clip rotates to fit both thin and thick vent slats. It's lightweight, compact enough to fit in your pocket, and when combined with a credit card, it doubles as a handy kickstand for your phone. These features make it the perfect car mount for anyone who travels and uses rental cars — just be careful not to leave it behind.
Kenu Airframe+ Vent Mount
The most portable mount
iOttie Easy One Touch 5
The most versatile mount
Pros
Easy one-handed operation
Bottom feet hold iPhone securely
Fully adjustable
iOttie's Easy One Touch 4 was excellent, so it makes sense we'd jump right onto the Easy One Touch 5 when it was available. The headline feature is the excellent one-touch mechanism that allows you to close the mount and open it one-handed, making it perfect for quickly slipping in your phone as you're getting ready to set off. Your iPhone is held securely by the arms, and there are feet at the bottom, so it can't fall. More importantly, you can adjust the height of the feet, and there's a telescopic arm that can extend and pivot.
This level of adjustability allows the iOttie mount to accommodate any iPhone model with any case on, and you can always find the ideal angle. It's a secure, solid mount at an affordable price, but iOttie also offers the same basic design with built-in Qi wireless charging for around $50, and if you're a big fan of Alexa, check out the iOttie Easy One Touch Connect Pro, which allows you to use Alexa on your iPhone in the car hands-free. You can buy this mount to fit into an air vent or CD slot or to be mounted on the dashboard or windshield.
iOttie Easy One Touch 5
The most versatile mount
ZeeHoo 15W Wireless Charging Mount
The best for charging non-MagSafe iPhones
Pros
Supports Qi wireless charging
Uses a USB-C connector
Solid construction
Cons
Limited to 7.5W charging speeds
If you own an iPhone 8 or later, your device is compatible with wireless charging. To combat the battery drainage that usually comes with running intensive location-tracking apps like Waze, the ZeeHoo wireless charging mount can keep your device running without any cables. It also supports 15W Qi Fast Charging, but since it doesn't use Apple's MagSafe technology, even the latest iPhone models will only be able to draw 7.5W from it.
Unlike most wireless charging mounts, the ZeeHoo mount also has a more modern USB-C port. The car-powered mount also features a fan to help keep your phone cool while it charges. With all the components that make up the mount, the base suction cup is surprisingly strong enough to hang onto most surfaces like windshields and dashboards.
ZeeHoo 15W Wireless Charging Mount
The best for charging non-MagSafe iPhones
IPOW Car Phone Mount
The most adjustable mount
Pros
Fully adjustable
Strong suction cup
Room for wired charging cable
Reasonably priced and very effective, the IPOW Car Phone Mount has a strong suction cup on the base to hold firm to your dashboard or windshield. It's designed to be fully adjustable, so the cradle for your iPhone is connected via a ball socket that allows for any angle. The clamp and arm can be adjusted separately and then tightened when you find your preferred position.
The cradle has feet on the bottom with soft rubber padding to keep your phone safe and two arms with a spring mechanism that's enough to hold your iPhone securely but still allows for quick and effortless removal. There's also a lever on the back for releasing the suction cup, and you can wash it to renew its effectiveness.
This mount will fit most phones, and it's perfect for iPhones of almost any size, from the iPhone 8 to the iPhone 13 Pro Max. There's no built-in charging here, but you'll find room between the feet to connect a cable for car chargers.
IPOW Car Phone Mount
The most adjustable mount
Trianium Magnetic Dash Car Mount
The best magnetic mount for non-MagSafe iPhones
Pros
Full 360-degree rotation
Easy magnetic attachment
Includes cable management clip
Cons
Not compatible with MagSafe
Trianium's powerful magnetic dashboard car phone holder attaches to your car with 3M adhesive and includes metal plates for your phone to enable a secure connection. Unlike some magnetic holders, this one uses a ball head joint that allows for full 360-degree rotation to get just the angle you want. The base is bendable, so it can contour to even curved surfaces, and the mount includes a cable management clip for your charging cable. Finally, we like that this holder doesn't have sidearms or barriers, which means it can fit the largest iPhones, like the iPhone 13 Pro Max, with no trouble.
Trianium Magnetic Dash Car Mount
The best magnetic mount for non-MagSafe iPhones
WizGear Universal Air Vent Magnetic Car Mount
The simplest mount
Pros
Simple and compact
Strong magnetic attachment
Works through most cases
Cons
Requires use of magnetic plate
Not compatible with MagSafe
WizGear's car phone holder is the one to go for if you want to save space and money. It will save you time when placing your iPhone on the mount since there's no fiddling with arms and you won't have to remove your iPhone's protective case.
This mount doesn't stick to the dash or come with a holder for the phone but instead clips onto your air vent. It holds your iPhone in place magnetically, without harming or interfering with any aspect of the phone. You can affix your iPhone to the mount by placing the included metal plate in your case — between the back of your phone and the case — or by placing the round magnetic plate on the back of your phone. You can then hold it in front of the mount and feel the magnetism pull it securely in. Once attached, the phone and mount can be rotated or tilted to whatever angle you prefer.
WizGear Universal Air Vent Magnetic Car Mount
The simplest mount
Topgo Gooseneck Cup Holder Mount
The best mount for cupholders
Pros
Easy to install and remove
Fits almost any cup holder
Gooseneck offers flexible positioning
Cons
Stability depends on cup holder design
Every good car has a cup holder, but you don't need a drink to make use of yours. This car mount from Topgo makes use of a previously empty cup holder by using it to hold your phone. The adjustable base can change to fit almost any cup holder, while the 8-inch gooseneck attached to the main cradle allows you to position your phone wherever you need it. The cradle itself is secure and can expand more than 3.5-inches — which makes it big enough to accommodate any iPhone on the market today. While it may lack the snazzy brand name of other holders, this cradle is a no-nonsense alternative — and if you need a version without the flexible gooseneck, Topgo has a cup holder mount for that need too.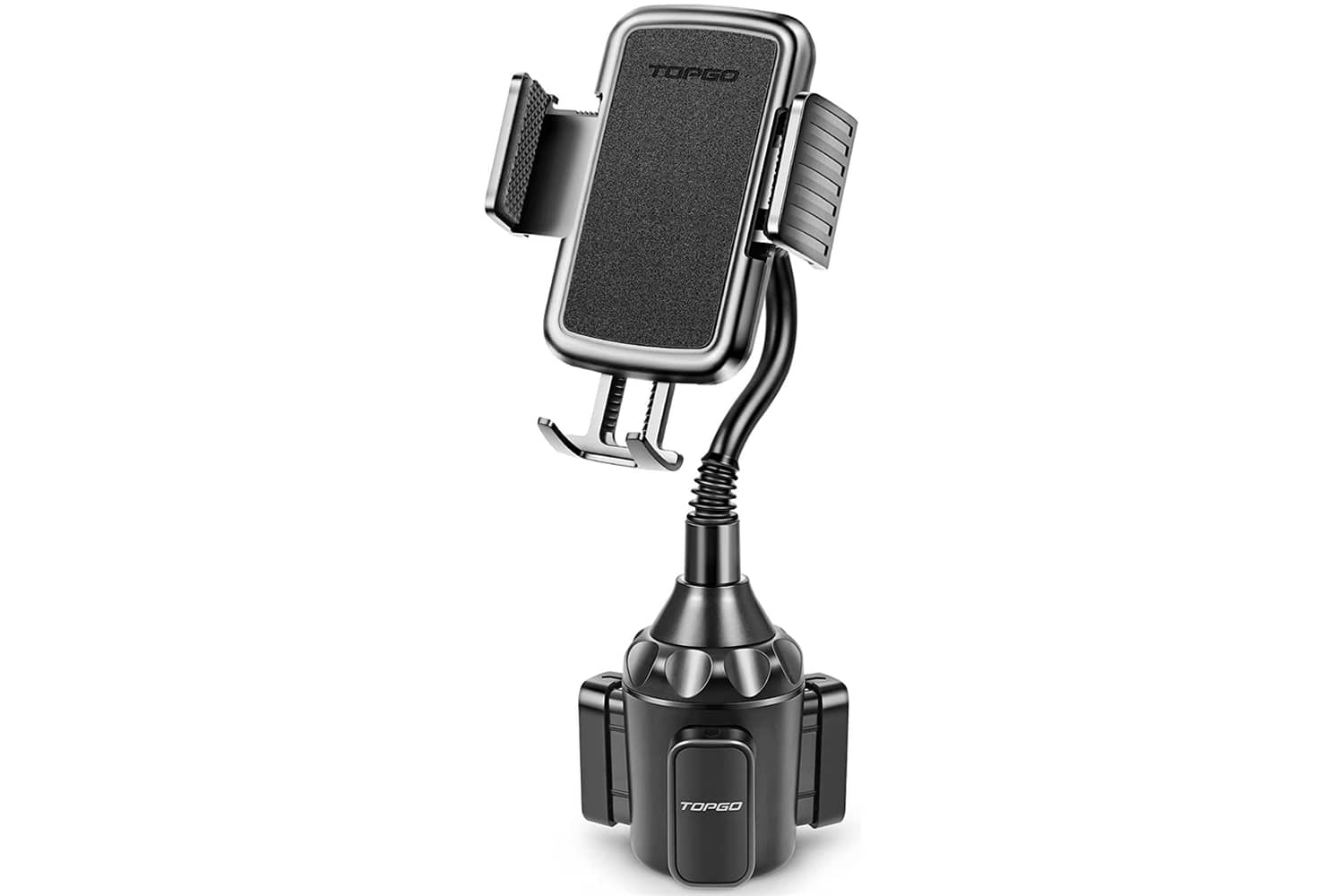 Topgo Gooseneck Cup Holder Mount
The best mount for cupholders
Editors' Recommendations