If you're searching for a set of earbuds with true active noise-canceling (ANC), there's a seemingly unending search ahead of you. With a number of recognizable (and not so recognizable) audio brands offering ANC buds, many at competitive price points, searching for the right set can be beyond daunting. We've tested tons of noise-canceling earbuds, and although everyone has their own specific needs and wants, we believe that the Sony WF-1000XM4 are the best noise-canceling earbuds you can buy right now.
But how do you ensure that you're getting a great pair of buds with excellent sound, great battery, plenty of customizable features, and, of course, stellar ANC? That's where we come in. As experts on all things audio and audio-adjacent, we've compiled this roundup of the best noise-canceling earbuds you can buy right now.
Sony WF-1000XM4
The best overall noise-canceling earbuds
Pros
Great sound quality
Good battery life
Great noise cancellation
LDAC Bluetooth codec
Wireless charging
IPX4 water resistance
Cons
May not fit small ears
Slightly lacking in high-end detail
No Bluetooth multipoint
Why you should buy them: Some of the best noise-canceling in the business, plus all-day comfort and great, balanced Sony sound.
Who they're for: People who don't want to compromise on quality.
Why we picked the Sony WF-1000XM4:
We weren't sure that it was possible to improve upon Sony's insanely popular WF-1000XM3 noise-canceling true wireless earbuds, but here we are, with the $250 WF-1000XM4s making some key improvements that have impressed us enough to slot them in at the top of our list.
And to jump right in with the main reason you're probably here, the XM4's noise-canceling is excellent, but that's no surprise, as Sony has always done this really well. The XM4s not only do an effective job at eliminating high- and low-frequency noise and sounds, but, as our reviewer Simon Cohen noted, they do it "invisibly," meaning they manage to achieve this without adding an audible hiss or frequency to do it. The result is super-clear audio, even when there's no music playing and you just want to listen to the sounds of your own thoughts in a noisy room. They even have an optional automatic wind-noise reduction feature that can be activated through the Sony Headphones Connect app, which also has a ton of other features to help you customize everything from EQ and ANC modes to control features, transparency mode, and more.
Speaking of transparency mode, the Sony WF-1000XM4s deliver on this front, too, with a new speak-to-chat feature that detects when you're speaking and automatically activates the transparency mode and pauses your music so you can have a conversation. The app also allows you to turn it on and off and set the sensitivity, which is nice.
But how do they sound? Again, the XM4s score high here, too, offering dynamic frequency response, deep bass, and clear mids and highs — although not quite as bright as the previous XM3s out of the box, but a quick EQ tweak can remedy that. In contrast to many earbuds that have silicone eartips, the XM4s employ memory foam, which conforms to your ear really well, creating a nice, comfortable seal that helps block outside noise to help you enjoy the music. Sony's touch controls will have you navigating your music and other features easily, accurately, and quickly and can be customized via the Headphones app as well.
Additionally, if Bluetooth codecs and sound-source representation is paramount to you, you may be interested to know that the XM4s are the first Sony true wireless earbuds to support the company's latest high-quality LDAC audio codec, as well as the most current version of its DSEE Xtreme digital processing that can upscale your MP3s and other digital music files to sound even better.
Ticking off a few more boxes, the Sony WF-1000XM4s have also improved upon the XM3's battery life, with a boost from six to eight hours of playtime with ANC turned on and from eight to 12 hours with it off, with the charging case doling out two full charges for a total of 24 hours. The XM4s have also addressed one of our gripes with the XM3s, finally elevating them to water-resistance level with an IPX4 rating, making them much more usable at the gym or out for a jog on a rainy day (you can also rinse them off under the tap without any fear).
With their compact form, snug and comfortable fit suitable for all-day use, full Sony sound, and some of the best ANC around, you can't go wrong with these formidable noise-canceling true wireless earbuds.
Sony WF-1000XM4
The best overall noise-canceling earbuds
Jabra Elite 7 Pro
The next best noise-canceling earbuds
Pros
Super comfortable
Great sound quality
Excellent call quality
Very good ANC and transparency
Good battery life
Wireless charging
Tons of customization options
Excellent water/dust protection
Why you should buy them: Full of great features, exceptional sound, and top-notch noise cancellation without emptying your wallet.
Who they're for: Anyone looking for reliable, high-performing earbuds with a reputable lineage.
Why we picked the Jabra Elite 7 Pro:
Like our top-pick Sony WF-1000XM4s, the Jabra Elite 7 Pro earbuds are descendant from a family of outstanding earbuds whose praises we've sung for years. Aside from being one of if not the most comfortable pairs of earbuds we've ever tried (our reviewer, Simon Cohen, gave them a rare 10/10 in his review), the Elite 7 Pro have outstanding noise cancelation, even better than Jabra's flagship Elite 85t, due in part by their fully closed design that provides a tighter seal than the 85t's semi-open design that lets in a bit more outside sound. The result are comfy and ultra-quiet earbuds that will bring you the peace and quiet that perhaps led you to seek out a pair ANC buds in the first place.
The Elite 7 Pro's transparency mode (called HearThrough) is also pretty great, and switching between it and ANC is as easy as a tap on the left earbud — a small but significant feature that makes them easier to use than the AirPods Pro and the XM4s if you're a stickler about that. Add to that the fantastic Jabra Sound+ app that Cohen also praised as being responsible for the Elite 7 Pros being the "most customizable earbuds I've ever tested," and the sky's the limit at roughly $50 less than the XM4s.
Again tapping into its impressive lineage, the Elite 7 Pros have managed to combine the rich and powerful bass of the Elite 75ts and the clear mids and highs of the sportier Active 75t that make everything from guitars and synths to vocals sit where they're supposed to in the soundstage for accurate reproduction of your favorite tunes. In our versus comparison, they even nudged out the Jabra Elite 85ts. Lastly, with regard to sound, is call quality, which is also superb on the Elite 7 Pros, and it's worth noting that a firmware update in January this year added a multipoint Bluetooth connection, meaning you can do things like listen to music from your phone while participating on a Zoom call on your computer at the same time.
If working out is on your list of main uses for a pair of earbuds, then the Elite 7 Pro's IP57 rating will please you, as they're waterproof in up to a meter of water for up to 30 minutes. And while we wouldn't suggest swimming with them, they'll take a dunk and withstand sweat, rain, and more with no issues.
Battery-wise, the Elite 7 Pro will last for eight hours with ANC on, and a quick charge of five minutes will net you an hour of listening. All in, with the power provided by the charging case, the Jabra Elite 7 Pros boast 30 hours of total playtime, and even more with ANC turned off.
While the Sony WF-1000XM4s do provide crystal-clear active noise-canceling and support for some of the latest Bluetooth codecs, if price is a main concern, you could do worse than the more-affordable Jabra Elite 7 Pros with their waterproof rating and insanely customizable Sound+ features. It's a win-win.
Jabra Elite 7 Pro
The next best noise-canceling earbuds
Bose QuietComfort Earbuds
Best ANC tech in noise-canceling earbuds
Pros
Best noise-canceling buds
Excellent call quality
Exciting audio quality
Solid battery life
Secure fit
Cons
No multi-point connection
A bit bulky
Why you should buy them: They pack the best combination of sound quality and noise cancellation we've ever found.
Who they're for: Those who want the best noise cancellation money can buy.
Why we picked the Bose QuietComfort Earbuds:
We think the Sony WF-1000XM4 offers the best set of features for the best price, which is why it grabbed our top spot. But if money is no object, and you crave best-in-class noise-canceling and fantastic sound quality, the Bose QuietComfort Earbuds will delight you — we promise.
Our reviewer was simply blown away by just how effective Bose's ANC is on these earbuds. "The Bose block far more high-frequency noise," our senior editor, Caleb Denison, writes. "Street sounds like cars passing by on pavement, the hum of an air conditioner, and, yes, even screeching children, are more effectively blocked out."
Sound quality is also a highlight — Denison describes them as having all of the sonic hallmarks, like tight transient response "that audiophiles trip over," which is the kind of high praise we tend to reserve for the very best headphones and speakers. 
If you intend on taking a lot of calls with your wireless earbuds, this is another standout strength of these earbuds. Bose has consistently been the best brand we've ever tested for call quality, and the QuietComfort Earbuds affirm that reputation.
Battery life is good at between six and seven hours even with ANC maxed out, but the wireless charging case only holds another 12 hours, which means that the QuietComfort Earbuds are some of the lowest performers on this list.
The one area that prospective buyers should be aware of is comfort/fit. Though very comfortable once seated, there's no getting around the fact that these are large earbuds. Because of this, Bose has fitted them with nonremovable earfins that help to anchor the buds in your ears. When combined with the relatively large, oval eartips, it creates a very strong sense of bulk. Those with small ears may find it impossible to achieve a good fit.
Bose QuietComfort Earbuds
Best ANC tech in noise-canceling earbuds
Apple AirPods Pro
Best noise-canceling earbuds for Apple users
Pros
Clear, engaging sound
Excellent noise-canceling
Comfortable
Superior call quality
Wireless charging case
Cons
Questionable long-term battery life
Why you should buy them: Apple built a pair of premium noise-canceling earbuds that are tailor-made for its own community.
Who they're for: Apple users in the market for immensely effective ANC.
Why we picked the Apple AirPods Pro:
As popular as the cheaper Apple AirPods are, the AirPods Pro eclipse them in every way. According to our experienced reviewers, the ANC in these high-end earbuds is best-in-class. They create a cone-of-silence effect that has to be experienced to be appreciated.
The AirPods Pro feature super-simple pairing and hands-free Siri access when connected to an iPhone, as well as an IPX4 water-resistance rating that protects against sweat and splashes during workouts. Apple also added an adaptive EQ technology that adjusts the frequency response to your listening conditions, something that few other companies offer.
Battery life for the AirPods Pro is enough for a full day at around five hours per charge and 24 hours of total life with the earbuds' included case, though this is on the low end when you look at other models in this roundup. There's no doubt that these buds are pricey at $249, but for Apple users in particular, they represent the best combination of noise cancellation and operating system integration available today.
Apple AirPods Pro
Best noise-canceling earbuds for Apple users
Technics EAH-AZ60
Best sound quality for the price
Pros
Excellent sound quality
Excellent noise cancellation
Hi-res audio support
Hands-free Alexa
Bluetooth multipoint
Cons
No wireless charging
No in-ear sensors
Why you should buy them: They rival the sound quality and features of higher-end earbuds but for a more reasonable price.
Who they're for: Those with audiophile standards who don't want to pay audiophile prices.
Why we picked the Technics EAH-AZ60 noise-canceling earbuds:
A more affordable version of Technic's excellent but pricey ($250) EAH-AZ70 true wireless noise-canceling earbuds, the $230 AZ60s offer up Technics' legendary sound and are packed with primo ANC and a whole lot more, making them more than worthy of our list.
Smaller than the Sony WF-1000XM4s and the Jabra Elite 85ts, the first thing you'll notice is how slick the EAH-AZ60s look, with their polished and brushed accents, also offering something different than those sterile white AirPods.
Comfy, small, and light, the AZ60s are easy to wear for long periods of time, with their soft silicone eartips creating a full seal to help block outside noise to complement the ANC (more on that below). To help you find that perfect seal, the AZ60s come with seven pairs of eartips (XS1, XS2, S1, S2, M, L, and XL) to suit pretty much every ear.
Let's get to it, then. The AZ60's ANC, our reviewer was surprised to report, is so good that he could barely tell it apart from the gold standard that is the Bose QC Earbuds. Ambient noise, hums, traffic, and nearby conversations are well and properly filtered, making for a clear, clean experience when just trying to concentrate in silence or when listening to music.
Transparency mode is activated easily with a long-press on the right earbud, and the Technics Audio Connect app allows for ample fine-tuning, including a feature that lets you bump-up and enhance voices for when you're having a conversation with someone.
As you would expect from Technics, the makers of some of the most legendary audio equipment ever, the sound quality from the EAH-AZ60s is superb, making these earbuds one of the best-sounding pairs on our list. Their lively sound signature and precision clarity let you hear many subtle details and instrumentation in the music, with a soundstage that puts those little audio details exactly where they're meant to be in the recording space — making them exciting earbuds for a variety of music styles. With their default EQing, the EAH-AZ60s are controlled and stable across the whole bass-mid-high spectrum, but that can all be tailored to your liking with the Audio Connect app, with presets and individual EQ sliders for ultimate control.
As with the Sony WF-1000XM4s, these Technics also support Sony's hi-res LDAC Bluetooth codec, which you can experience when connected to a compatible phone or device. Whether you use this capability or not doesn't matter, these earbuds just sound fantastic, even when put up against more expensive earbuds such as the aforementioned Sony WF-1000XM4s.
The Technics EAH-AZ60s battery life isn't anything to write home about, though, with roughly seven hours per charge with ANC activated and a total of 24 to 25 hours of playtime with the charging case (which isn't wireless, by the way). Using the LDAC will yield even less playtime.
But this is all a reasonable tradeoff when you consider the sound quality for the price, as well as all the additional features you get, including customizable touch controls that actually work well, lost earbud tracking, multipoint Bluetooth connectivity, voice assistant support, and more, all for a great price.
Technics EAH-AZ60
Best sound quality for the price
JBL Reflect Flow Pro
Best athletic noise-canceling earbuds
Pros
Solid, secure fit
Excellent noise-canceling
Choice of hands-free voice A.I.s
Completely waterproof
Wireless charging
Cons
Limited control options
No quick-charge option
Why you should buy them: They sound great, offer superb ANC, and have an IP68 waterproof rating to handle the most rigorous workouts.
Who they're for: Anyone looking for a great set of athletic earbuds that rival the Beats Fit Pro for way less.
Why we picked the JBL Reflect Flow Pro:
Finding a great pair of earbuds for your workout isn't an easy feat. They have to fit well, not jiggle loose while you're in the throes of a run or ride, sound great, and offer some top-notch ANC to help keep you in the zone while also letting you hear the world around you. Well then, the JBL Reflect Flow Pro sports buds could be the perfect pair.
Smaller and lighter than its predecessor, JBL's great Reflect Flow, the newest "Pro" version, are super comfortable and fit well, thanks to a selection of three sizes of silicone eartips to choose from as well as four choices of fined wingtips that help secure the earbuds in your cymba conchae, the cartilage section just above your ear canal. The My JBL Headphones app can also run a test to help you zero in on the perfect fit.
Once your fit is secured, the Reflect Flow Pro's IP68 rating will easily take on whatever dust, water, and sweat your activities can throw at them, and you can completely submerge them in water to rinse them off afterward.
But that's putting the cart before the horse. During your workout, the Reflect Flow Pros deliver all the tub-thumping bass you'll need to drive you further while not skimping on the clear mids and highs for those motivational lyrics (or podcasts, if that's your workout jam). While our reviewer was impressed at the sound out of the box, the My Headphones app also offers some EQing features to help you dial in your perfect sound.
But what about the noise-cancellation and transparency modes — important features for the athletically minded. Our reviewer was impressed, comparing them to the excellent Beats Fit Pro, which is high praise. Outdoors, traffic, and ambient noises were kept in check, while inside (should you want to use them for work, too), annoying sounds like hums and bathroom fans were filtered out. Heading back outside, if you want to make sure you can hear any disturbances or dangers while running, the Reflect Flow Pros' transparency mode is also really good. Two presets are available – Ambient Aware (for general environmental sounds) and TalkThru for conversations. Easily activated using a double-tap on the earbud, switching between them or turning it off is super simple.
Our reviewer noted that while the JBL Reflect Flow Pros are easy to use and have some intuitive touch controls, they aren't as configurable or customizable as some of the other earbuds on our list. But for $130, the Reflect Flow Pros are stacked with features that more than make up for it. With 10 hours of playback time on a single charge (eight with ANC on) and an extra 20 hours with the Qi-compatible wireless charging case, they compete with some of the best on our list. There's also voice assistant support for Siri, Alexa, and Google Assistant, plus a Find My Buds feature that will help you locate them if they're lost or stolen, although there's no map support like with the AirPods or Jabra Elite series earbuds.
Overall, if you're looking for an amazing pair of earbuds for your workouts that sound great, can handle the sweat and the rain, and offer fantastic ANC without spending the extra $70 on the Beats Fit Pros, then take a long hard look at the JBL Reflect Flow Pros.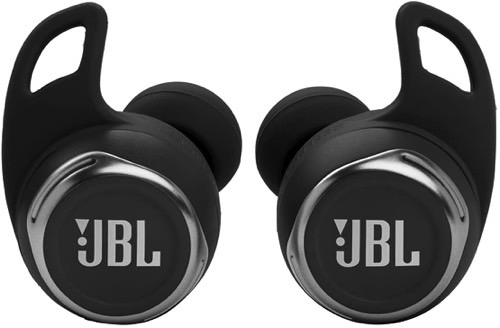 JBL Reflect Flow Pro
Best athletic noise-canceling earbuds
Denon Noise Canceling Earbuds
Best AirPods Pro alternatives
Pros
Comfortable fit
Excellent sound quality
Very good noise-canceling
Very good transparency
Good call quality
IPX4 water resistance
Cons
No wireless charging
No EQ or control customization
No Bluetooth multipoint
Require frequent fit adjustment
Why you should buy them: They offer noise cancellation on par with the likes of Bose, Apple, and Sony at a fraction of the price.
Who they're for: Those who prefer the AirPods Pro-style of earbuds.
Why we picked the Denon Noice Cancelling Earbuds:
This is Denon's first stab at true wireless earbuds, and it's not really a surprise that the acclaimed Japanese audio makers have hit it out of the park with a pair of ANC earbuds that bring Denon-level audio quality and smooth and quiet noise-canceling tech that might make you question why Apple's little white buds are such a big deal.
That said, with an obvious nod to Apple's AirPods design (with slightly thicker stems and also available in black), the Denon Noise Cancelling Earbuds offer a cheaper alternative but deliver some respectable features and performance, the first and most substantial being their sound quality. Our reviewer was impressed with Denon's clarity across the full spectrum of low, mid, and high frequencies and praised their accurate sound reproduction and wide soundstage, comparing them to the Technics EAH-AZ60s.
But how do the Denon Noise Cancelling Earbuds fare with their ANC? Very well, it turns out. Outside of a slight hiss when listening to them with no music playing, the Denons did a great job at blocking out everything from traffic and background conversations to machine hums, highway noises, and more. In fact, our reviewer said it was difficult to tell the difference between them and the ANC of more expensive rivals such as the AirPods Pro, Sony WF-1000XM4s, and the Bose QC Earbuds — remember, these are $160 earbuds.
Transparency mode, on the other hand, while decent, doesn't live up to its AirPods Pro doppelganger, and, oddly, there's no companion app with the Denons, so all the controls (including for activating/deactivating the ANC) are handled with taps on the buds themselves. This also means there's no EQ or feature customization, but the controls work well enough and it do keep things simple.
The cheaper price tag also reflects some other features, including one of the lower battery performances on this list, with just 4.8 hours per charge with ANC on and a total of 19 hours with the charging case (non-wireless charging). An IPX4 rating, however, means you can confidently take them for a run in the rain or sweat on them at the gym.
If you prefer the form factor of Apple's AirPods Pro and aren't bothered by the lack of EQ and customizable features, then the Denon Noise Cancelling Earbuds are a great-performing alternative if sound quality, ANC, and affordability are at the top of your priority list.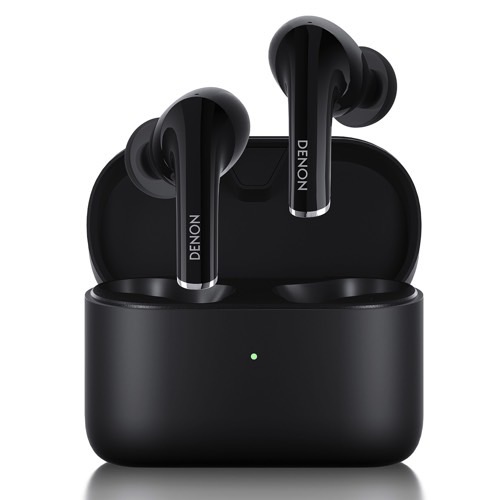 Denon Noise Canceling Earbuds
Best AirPods Pro alternatives
Sennheiser Momentum True Wireless 2
Great audio in noise-canceling earbuds
Pros
Unrivaled sound quality
Stellar active noise cancellation
Simple setup and controls
Revamped battery life
Sleek aesthetic
Cons
Expensive
Comparatively bulky design
Why you should buy them: They represent some of the best true wireless sound we've heard to date.
Who they're for: Those who refuse to compromise on audio quality, regardless of the price.
Why we picked the Sennheiser Momentum True Wireless 2:
The first-generation Sennheiser Momentum True Wireless were among the best wireless earbuds we'd ever heard, so the next edition had large shoes to fill. The $200 Momentum True Wireless 2, fortunately, lives up to expectations.
It's no surprise at all that Sennheiser produces incredible-sounding noise-canceling earbuds. The Momentum True Wireless 2 bring back the incredible clarity, impressive low end, and masterful stereo imagery from the first generation, making you notice parts of tracks that are completely missing when listened to through other earbuds. The major difference here is the introduction of ANC, which is nearly as remarkable as the sound itself, and our reviewer noted that his morning dog walk through the busy streets of his neighborhood was quieter than it had ever been, and with the help of the buds' well-fitting eartips, it's never been quieter. The introduction of ANC to these Sennheisers is the perfect complement to this kind of audio quality since it doesn't let anything get in between you and your music.
Sennheiser's Transparent Hearing mode is just what it sounds like: Transparent mode, which is activated with a double-tap on the right bud, letting in some of the sounds from the world outside or letting you engage in a conversation without removing your earbuds.
The touch controls on the outside of the earbuds are easy to use and not clumsy, and with a triple-tap, the ANC is activated and deactivated. The controls also do a great job at volume and track control with music and can be customized with the Sennheiser Smart Control app, but that isn't necessary when using them.
The features of the Momentum True Wireless 2 are a bit of an afterthought, but they are still decent parts of these buds. They boast about seven hours of playback per charge and 28 hours total, plus an IPX4 weather-resistance rating to help these earbuds withstand harsh weather.
Sennheiser Momentum True Wireless 2
Great audio in noise-canceling earbuds
EarFun Air Pro
Best affordable noise-canceling earbuds
Pros
Affordable
Comfortable design
IPX5 water resistance
Great battery life
Cons
Touch controls are hit or miss with limited functionality
Why you should buy them: They offer affordable and effective ANC.
Who they're for: Any budget-minded listener who still wants to be in the ANC conversation.
Why we picked the Earfun Air Pro:
The Earfun Air Pro aren't just less than $200 — they're less than $100, which makes them an incredible value even if they don't quite perform as well as some of the other ANC earbuds on this list. They use an identical design to the Edifier TWS NB2 — in fact, Edifier worked on these earbuds with Earfun, and the result is a fantastic combination of sound quality, noise cancellation, and features that are unmatched at this price.
Our expectations for an $80 set of ANC earbuds weren't that high, but Earfun has shown that you really don't have to pay top dollar for quality noise cancellation. The Air Pros are more than capable of blocking out external sounds and do a particularly good job with low-frequency noise like droning fans or traffic. Their ambient mode for letting sounds in isn't quite as convenient as the single-click of the Jabra Elite 85t, but it works very well once engaged.
Sound quality is also better than expected, with very clear and distinct highs and midranges. Bass is strong, but not overpowering — just the way it should be to complement a wide variety of music genres. The ability to adjust EQ would have been a nice touch, but Earfun does not provide a way to do so.
The comfortable design mimics the elongated stem of the AirPods, and these buds have a very good IPX5 water-resistance rating for handling sweat or even the occasional shower. Just like the AirPods, if you remove the Air Pro from your ears, the music will automatically pause.
Battery life is especially impressive, with seven hours of ANC playtime and nine hours without using ANC. The USB-C connected charging case extends this to 25 hours or 32 hours, respectively.
Our only criticisms of this excellent set of earbuds are touch controls that don't always recognize taps and no volume or track-skip-backward functions. Otherwise, the Earfun Air Pro are worth every penny, and then some.
EarFun Air Pro
Best affordable noise-canceling earbuds
Frequently Asked Questions
What are noise-canceling earbuds, and how do they work?
Noise-canceling earbuds are in-ear audio products that utilize a number of internal microphones and inverted noise waves to pick up ambient sound and cancel out the most externally distracting frequencies, leaving you with crystal-clear audio without the background noise of bustling cities, airplane engines, and more.
Which are best — headphones or earbuds?
That depends on your preferred listening experience. Headphones typically provide a cushioned barrier between your ears and the music/content streaming into your canals. Additionally, if you spend your days predominately in one space, headphones may be ideal for all-day comfort. If you find yourself constantly on the go or can't stand the bulk of a set of headphones, earbuds are certainly a more minimalist alternative. While a bit more intrusive to your ear canals, earbuds are easy to travel with, simpler to recharge, and provide equal listening experiences to some of the best-quality headphones available today.
Is it bad to sleep with noise-canceling headphones?
While the best earbuds are designed for comfort in most body and ear positions (standing, sitting, lying, etc.), it's especially important to regulate the volume level of your buds while you're asleep. Loud music through earbuds can cause damage to several parts of the ear, especially when buds are in place over several hours. That being said, earbuds are routinely used to help restless sleepers with white noise apps, relaxing music, and other calming audio sources.
Can earbuds damage your ears?
Yes, because of their isolation and because the drivers are closer to your eardrums, it is not recommended to listen at higher volumes for extended periods of time.
Are earbuds waterproof?
Many are water-resistant; few can be fully submerged. We recommend checking for an IP rating if you want to make sure you are treating them properly.
Can earbuds sound as good as over-ear headphones?
Yes, at the high end, in-ear monitors can sound as good as virtually any headphones on the market. That said, you'll have to pay a hefty premium to get top-tier sound.
How should earbuds fit?
Comfortably and securely. A good fit is essential to getting the best sound quality from any set of earbuds. If the eartips that come with your earbuds don't provide a good fit, Amazon carries plenty of third-party eartips that can help. You may want to find a pair with earfins or earclips if you are planning on working out.
Should I use earbuds when driving?
No. It is dangerous and illegal in many places.
Glossary
Driver: The unit that produces sound in a headphone, made up of magnets, voice coils, and other materials. Typically, the larger the driver, the more power a headphone has, and generally bigger drivers in in-ear headphones indicate a better range of frequencies can be reproduced.

Dynamic driver: A single driver capable of covering the entire frequency range. The diaphragm is connected directly to a voice coil in the headphone, with the voice coil moving between magnets to produce sound.

Balance armature driver: In a balanced armature driver, the headphone's diaphragm is connected to the armature, with micro-vibrations producing the sound. Most balanced armature drivers are best within a specific frequency range, which is why many headphones contain multiple balanced drivers, with certain frequencies divided between drivers for full-spectrum sound. If you see a model advertised as a "triple-driver" or "quad-driver," it's likely referring to multiple balance armatures.

Soundstage: The perceived size and depth of the sound coming through the headphones.

Passive noise isolation: Noise that is blocked out by the headphone based on its physical shape and size in your ear.

Active noise cancellation (ANC): A technology that blocks outside sounds by producing sound waves that are the exact opposite in terms of frequency and amplitude, thereby "canceling" the unwanted sound before it reaches your eardrum.

Frequency response: The spectrum of frequencies that a headphone can reliably reproduce.
How we test
We test headphones and earbuds the way normal people live.
We run every pair of earbuds through a rigorous process over several days. That includes playing them in all sorts of scenarios — be it on a bus, in the listening room, or at the office — and playing back from a wide array of sources. We know most people use their headphones with a smartphone, often with lower-quality MP3 resolution tracks, so we test that, too.
However, we also move up to high-resolution audio files, as well as a wide variety of sources, including plugging in directly to a PC or Mac, using USB DACs (digital-to-analog converters), and employing high-quality dedicated portable players and amplifiers. Finally, we compare the earbuds to some of our go-to models, both in their class and price point, as well as a level or two above to find out if they can punch above their weight.
Editors' Recommendations